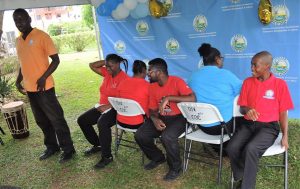 The Division of Community Development, Enterprise Development, and Labour has launched its "Twelve Joys of Christmas" programme.
The initiative started last week. On Day 2, Friday (November 30), the CEPEP (Community-based Environmental Protection and Enhancement Programme) team of District 12 Canaan/Bon Accord brought joy to the children of the Technical Vocational Centre by hosting a Garden Party at Joefield Park in Bon Accord.
The children performed for all well-wishers and enjoyed several activities, which included dancing, drumming and musical chairs.
Today's activities included a Christmas Clean Up in Kendall.