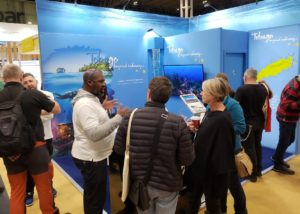 The Tobago Tourism Agency Limited (TTAL) returned to the annual Birmingham Dive Show on October 26 and 27, 2019 along with Tobago's dive niche stakeholders to showcase the island's world-class dive product, and promote Tobago to dive enthusiasts from the UK and Europe.
Held at the National Exhibition Centre in the UK, Birmingham Dive Show is the largest of its kind, welcoming approximately 16,000 experienced and aspiring divers annually seeking out information on diving holidays, training courses, dive gear, and more. The show boasts over 300 exhibitors from all over the globe, including other Caribbean islands, and provided an excellent opportunity for destinations and organisations to meet large numbers of active and affluent people who enjoy scuba diving.
TTAL attended the Birmingham Dive Show to capitalize on the opportunity to continue targeting this growing niche, and capture immediate and future business for the island. Through the Tobago Tourism Agency's efforts, Tobago was displayed as a premier dive destination in order to encourage visitor arrival and stimulate economic growth of the island's tourism sector.
The Agency featured the island's unspoilt attractions through a branded stand, featuring an interactive dual function display designed to entice divers, as well as their families to the island. The stand also provided a platform for representatives from Tobago Dive Experience and Undersea Tobago to promote themselves to potential visitors, driving demand to Destination Tobago and creating opportunities for increased economic activity within the tourism industry.
TTAL CEO Mr. Louis Lewis who attended the Dive Show, stated: "The Birmingham Dive Show is part of the broader strategy coming out of our branding process that highlights the core attractor of diving. There has been a lot of interest in what's available in Tobago, and a number of visitors to the stand sought information and insights on the dive product, as well as other activities that are available on-island to engage visitors during their stay. We are proud to offer the world a very competitive product"