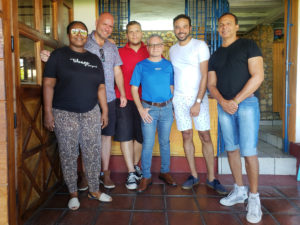 The Tobago Tourism Agency Limited (TTAL) hosted a press trip with media representatives from Curaçao on August 7th and 8th, following Caribbean Airlines' (CAL) newly-launched service between the Dutch Caribbean island and Trinidad.
CAL began providing direct flights between Curaçao and Trinidad on August 2nd with a twice-weekly service on Mondays and Fridays.
TTAL sought to highlight the ease of connectivity between Tobago and Curaçao via Trinidad, and to promote the unique selling points of the island in the Curaçao television and press.
The press trip included exposing the delegation to Tobago's eco-adventure assets, beaches, waterfalls, trails in the Main Ridge Forest Reserve, and iconic Forts and monuments.
"I'm impressed by the beauty of the island; it's not only a very green island, but a very clean island," said Oscar van Dam, a journalist from Curaçao's largest newspaper, Extra Curaçao.
Van Dam indicated visitors from his country would not hesitate to take the short domestic flight to Tobago.
Tobago Tourism Agency officials were also interviewed by the various Curaçao media personnel on the press trip, in order to promote the unspoilt, untouched, undiscovered island of Tobago in the Curaçao television and press.