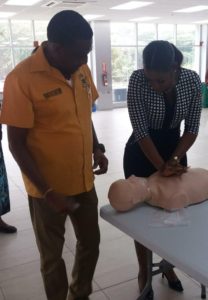 Immediate Cardio Pulmonary Resuscitation (CPR) can double or triple chances of survival after cardiac arrest.
The Occupational Health and Safety Department hosted a three-day training workshop in Basic First Aid and CPR for staff of the Tobago House of Assembly.
The training was held from June 24 to 26. Participants completed the training with a knowledge of basic First Aid procedures and CPR technique.
The sessions were facilitated by Michael Letren. OSH is part of the Division of Community Development, Enterprise Development, and Labour.