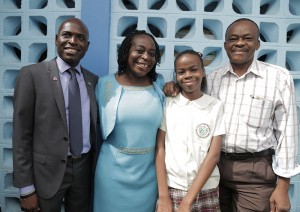 Tobago's Secondary Education Assessment (SEA) students continued the island's upward trend in the examination, recording better performances in the 2015 exam than a year ago.
This year, 638 Tobago students, or 76.3 percent, scored above the 60 percentile range, compared with 518 (57.6 percent) in 2014. In total, 830 Tobago students (99.3 percent) scored higher than 30 percent overall.
The number of students scoring above 90 percent also increased from 21 to 23. In all, 836 students (446 boys and 390 girls) sat the SEA exam in Tobago in May.
On Wednesday (July 1, 2015), Secretary of Education, Youth Affairs, and Sport Huey Cadette visited the primary schools in recognition of the top ten Tobago students. He congratulated them for their overall improvement.
He made special mention of Signal Hill Government Primary School's Debra Amata, who finished as Tobago's top student.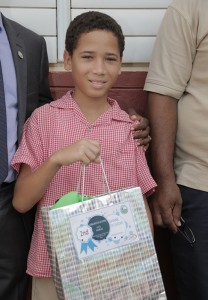 "Debra's score was a total of 238.298. The national student who came first in Trinidad and Tobago total score was 243.798, a difference of 5.5," Cadette said during the weekly Post Executive Council media briefing at the Calder Hall Administrative Complex.
"We want to extend congratulations to young Miss Amata and the principal and staff at the Signal Hill Government Primary School. Top ten placement is not an unusual occurrence at Signal Hill."
The top ten students, from first to tenth place, were Amata (Signal Hill Government Primary School), Shane Telesford (St Nicholas Primary), J'Da Nicomb (Scarborough RC), Elrica Bribane (Patience Hill Government), A'Shawna Baptiste (Belle Garden Anglican), Rianna Walker (Scarborough RC), Safiya Gay (Scarborough RC), Lilian Rege (Scarborough RC), Jared Quashie (Hope Anglican), and Christian Baumgartner (Scarborough RC).
In all, 13 girls and seven boys finished among Tobago's top 20 students.