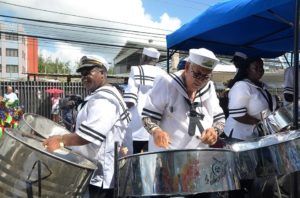 The launch of Carnival 2019 kicked off on Monday (January 21, 2019) at the GNV car park in Scarborough.
"The Tobago House of Assembly and the Division of Tourism, Culture and Transportation remain committed to working with all stakeholders to further enhance our cultural product while maintaining that balance between keeping our local participants satisfied, engaged and making it attractive for our visitors," Secretary of Tourism, Culture and Transportation Nadine Stewart-Phillips said during the launch.
Stewart-Phillips thanked the Chairman of the Tobago Festival's Commission George Leacock and his team for having full understanding of this vision and thrust of the THA.
"Today's launch was strategically planned to coincide with the maiden voyage of the MV Ventura to our shores so that our visitors can experience one of this country's greatest cultural exports first-hand," she said.
The Secretary also indicated that she looked forward to welcoming innovative ideas from carnival stakeholders.