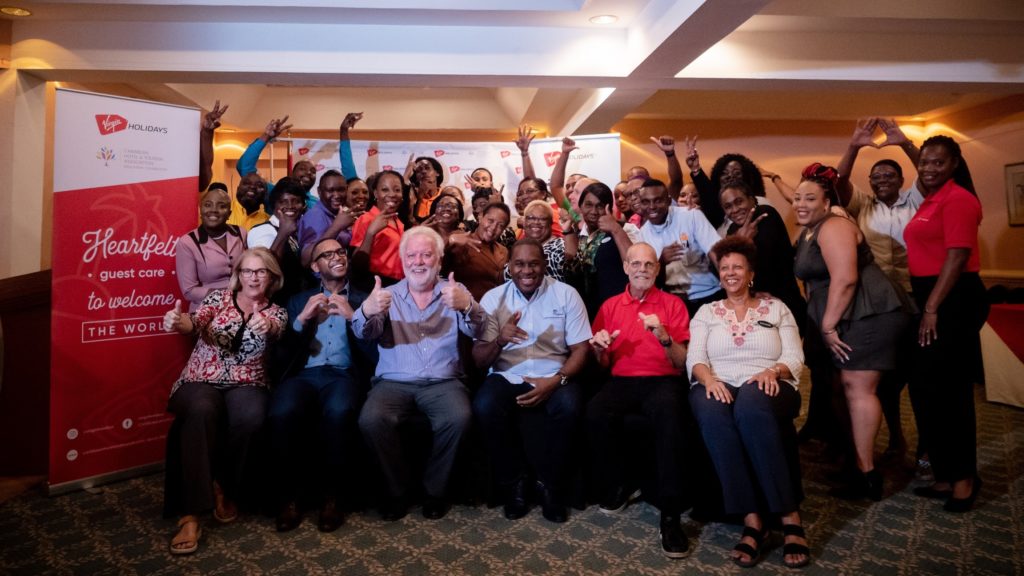 60 Tobagonians representing various organisations in Tobago's tourism industry successfully participated in a training development workshop, which will improve the guest experience of visitors to the island. They now join 600 "Heartfelt Guest Care Ambassadors" from Barbados, St. Lucia and Grenada who have participated in this initiative that will boost customer satisfaction for visitors to the Caribbean.
The "Heartfelt Guest Care to Welcome the World" workshop took place at the Coco Reef Resort and Spa on October 17 and 18, 2019. It was conceptualised by Virgin Holidays in collaboration with the CHTA Education Foundation, and sponsored by the Tobago Tourism Agency Limited and the Tobago Hotel and Tourism Association.
Speaking at the closing ceremony of the programme on Friday October 18, CEO of the Tobago Tourism Agency Mr Louis Lewis said, "We at the Tobago Tourism Agency have recognised the importance of service delivery. It is so enshrined in our strategy that in the first year of operation, we focused on the rebranding, but now we are bringing the brand to life by getting our service to go – as our tagline suggests- beyond the ordinary."
The CEO also announced at the event the Agency's plans to work with the island's tourism stakeholders to continue developing excellence in service delivery with a programme to be undertaken in 2020 which will take the entire destination into consideration, not just tourism accommodations.
"Tourism is not just something where people reside at hotels. People interact throughout the economy, and we cannot leave any point untouched. Tourism to Tobago is our lifeline: this is what is going to bring us foreign exchange, create employment, and transform the assets that we have into revenue earning… and it does not happen unless you have a proper service delivery," Mr. Lewis said.
Assistant General Manager of Starfish Tobago Resort, Mr. Curtis Lee, was of the participants that benefitted from the joint training initiative which covered the topics "The Guest Journey with identification of pleasure & pain points", "The Diversity of Guests we serve and understanding their needs", "Handling Tricky Situations" and "Responding Positively to Guest Feedback".
Mr. Lee stated: "As somebody who loves tourism and would love to see Tobago succeed, I think the first phase of the Tobago Beyond rebranding scheme has been successful, and the marketing of the destination as a whole. I think the second phase has to do with continuity, which involves education and ensuring that when guests do come, they are happy and have value for money. This training is a step in the right direction in ensuring all persons – from line staff to management – understand their role in the development of Tobago's tourism product."