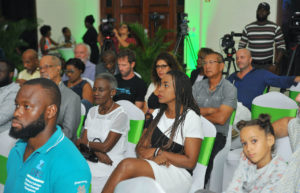 On Wednesday November 27, 2019, the Tobago Tourism Agency Limited (TTAL) hosted a tourism networking event and film screening at the Pigeon Point Pavilion titled "Celebrating the Extraordinary".
The event enabled Tobago's tourism officials to engage in pertinent discourse with industry stakeholders on their joint journey toward realizing an enhanced, sustainable future for unspoilt, untouched, undiscovered Tobago.
The evening's program also included a special screening of the completed National Geographic Traveller's short feature called "Tobago: Full of Life". The video is part of a marketing initiative by TTAL that will see a content hub go live on National Geographic Traveller website in the upcoming weeks, featuring visual content and five articles highlighting Tobago's unique product offerings.
In addition to addresses by Mrs. Bernadette Solomon-Koroma, Chief Administrator of the Tobago House of Assembly and Dr. Sherma Roberts, Chairperson of TTAL's Board of Directors, the event included an interactive panel discussion moderated by Dr. Acolla Cameron, Deputy Chairperson of TTAL's Board.
Panellists included Mr. Louis Lewis, CEO of TTAL, Ms. Sheena Des Vignes, TTAL's Marketing Coordinator, and Mr. William Trim, environmentalist and tour guide who played an integral part in the National Geographic Traveller documentary's production.
The panel discussed among each other, and audience members, topical tourism industry developments including the significance of Tobago winning an International Travel and Tourism Award, product development initiatives on the island, and the move towards a green, more sustainable tourism sector with enhanced service delivery and an increased digital presence.