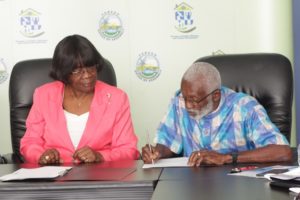 Tobago will host the fourth Caribbean Conference of Elderly People from October 23-24, 2019 at the Magdalena Grand Beach and Golf Resort.
This was announced last week by Secretary of Health, Wellness and Family Development Dr. Agatha Carrington during the appointment ceremony for the Tobago Association for the Elderly (TATE) at the Division's Wilson Road, Scarborough offices on April 9.
The Conference is entitled: "Ageing, Elder Abuse and the Rights of the Elderly". It will be hosted through collaboration among the Health Division, TATE and FIAPA (the International Federation of Associations of Older Persons).
The Secretary said the conference will help spread regional awareness about caring for the elderly, and encourage collaboration among organisations concerned with the needs of senior citizens.
"Focus will be placed on mental and social implications of an ageing society, the global epidemic of elder abuse and reinforcement of the rights of older persons," Dr. Carrington said.