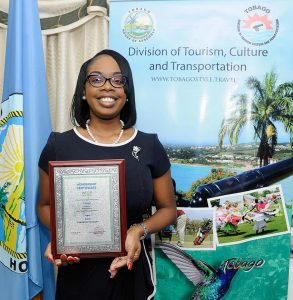 Tobago is now a member of the World Tourism Cities Federation (WTCF), an honour that could bring with it new opportunities for the tourism sector.
The island gained membership at this year's WTCF Summit, which ran from September 7-9 in Qingdao, China.
Secretary of Tourism, Culture and Transportation Nadine Stewart-Phillips represented the island at the event. Tobago is the 203rd member city of the Federation, and received a commemorative plaque in recognition of its membership.
The theme of the summit was "Orient Industry Trends, Brand Tourism Cities".
The summit was hosted by the Qingdao Municipal People's Government and the WTCF. The organization facilitates exchanges and cooperation among members, which helps to promote tourism products and resources of members.
The Federation also contributes to the development and prosperity of the global tourism industry.