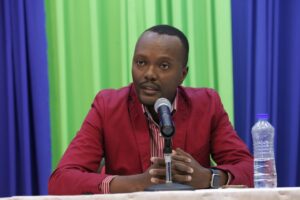 Newly appointed Chief Secretary Hon. Ancil Dennis said Trinidad and Tobago is cautiously moving toward reopening. "We in the Tobago House of Assembly are taking the necessary steps to ensure we are prepared," Dennis said.
On May 16th, Dennis hosted his first virtual post Executive Council Media Briefing at the Scarborough Library, following his first Executive Council meeting and reprioritisation exercise as Chief Secretary.
During the Briefing, Dennis said the Executive Council had examined developments in relation to COVID-19, inclusive of the THA's financial situation, ongoing social support, and requirements for the service sector.
He said priorities for the THA included providing support for residents, business sustainability, and the funding of ongoing projects. Chief Secretary Dennis also indicated guidelines and criteria to access the $50 million allocated by Central Government, toward the Tourism Recovery Programme for the renovation of properties, will be outlined next week.
Chief Secretary Dennis informed members of the media that he met with the Tobago Tourism Agency Limited (TTAL) on May 15th. He said the Agency is looking to "target the domestic tourism sector to ensure Tobago is in a position to benefit given our challenges with international tourism."
A financial update was also provided during the briefing.
Secretary of the Division of Finance and the Economy Joel Jack said the island's upcoming budget "will focus on strategies to stimulate the Tobago economy, in light of challenges faced by COVID-19."
Job creation and preservation, the protection of vulnerable groups, and economic stimulus support for agriculture, tourism, the Small and Medium-sized Enterprises (SME) sector, and ICT infrastructure will be prioritised.
"We want to ensure that we make adequate provision to provide supplemental support to what was given to us by the Central Government, and to ensure that we fund all our social safety net programmes adequately, to meet the needs of those laid off or impacted by COVID-19," Jack said.
Jack said the Division is committed to paying suppliers, in addition, emphasis would be placed on the payment of outstanding gratuities.
An Economic Recovery Task Force will be announced next week to chart a path to recovery.