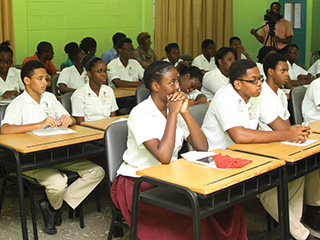 Tobago had more autonomy in 1996 than now.
This is how Tobago House of Assembly (THA) Chief Secretary Orville London explained the island's current governance situation to students of Bishop's High School at Mt Marie on Wednesday (May 27, 2015) during a visit by the Forum of Political Parties.
It was the first stop in a series of meeting between the Forum and students of secondary schools in Tobago. The Chief Secretary is the coordinator of the Forum. He and staff of its Secretariat met with students for an "open and frank" discussion on the issue.
The Forum also visited with students of Speyside High School on Thursday (May 28) and Mason Hall Secondary on Friday (May 29).
London said that under Act No 40 of 1996, the THA had control over 33 areas of responsibility, but the Cabinet of Trinidad and Tobago has veto power over them.
"So you have power but you really don't have it. This is one of the major sticking points because you do not really have autonomy, you do not really have authority, and you really do not have control over your own affairs. (You are) in a situation where somebody, some entity can arbitrarily say 'although you want to do this, we're telling you you can't do it', and that is the present situation," London said.
He added: "We are now at a point where we are saying we had more autonomy in 1996; we want self-government. What we are asking for and what you as a Tobagonian by definition is asking for is not separation, is not sedition, is not secession, what we are asking for is that we remain in the family but as members of the family we have the right to do our own thing in our own space.
London explained that the first contract between the Assembly and the Central Government came with Act No 37 of 1980, and that Act gave the Assembly and Tobagonians more control over their own affairs, but only a taste compared to what the island wanted.
He said that by having a different culture, a different way of life, a different history and a different tradition, Tobagonians now understand that "we are in a position where we can say 'we want to do our own thing in Tobago'".
London compared the difference between Act No 37 of 1980 and Act No 40 of 1996 to that of an adolescent becoming a young adult.
"There is similarity between how your parents treated you when you were 15, 16 or 17 years and what you are likely to experience when you are 25 years," he explained.