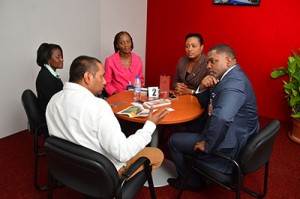 The Division of Finance and Enterprise Development showed continued support for local businesses through its Business Development Unit (BDU) which facilitated the participation of Tobagonian entrepreneurs in this year's Trade and Investment Convention (TIC) held at the Centre of Excellence, Macoya.
According to Finance and Enterprise Development Secretary, Mr. Joel Jack, "trade missions provide unique opportunities for our business persons to meet new clients, generate novel ideas and access untapped markets.  The event assisted several business persons in two priority sectors in building their capacity and expanding their enterprises."
TIC is one of the largest business to business events in the Caribbean with more than 200 businesses from over 35 countries represented. Member of the Tobago delegation were given access to seminars, business to business meetings, structured business networking and business education programmes aimed at fostering intra and extra regional trade.
Tobago's Small and Micro Enterprises, were facilitated for the fifth time by the Division of Finance and Enterprise Development at what was dubbed the Tobago Pavilion. The  nine (9) participants this year were agro-processors Cheryl-Ann Lee Yuen (Simply Delightful), Denise Ransome (Tobago's Own Rum Cream), Garrett McKellar (Exquisite Local Drinks), Giselle Johnny (Caribbean Exotique/ Jus Rite Creations), and Renessia George/ Paul David (Flavour Me Rite). The garment/ accessory manufacturers were Camille Khan (Kamille Kahn Designs), Diamond Linton (Tobago Gyul Designs) and Ted Arthur (Ted Arthur Leather Collection), in addition to Mary Griffith (Scents of Tobago). The Division of Tourism and Transportation also collaborated with the Division of Finance.
Through these efforts, the Assembly continues to create avenues for local producers to access markets, stimulate growth in the agro processing and creative sectors as well as further diversify the island's economy. Staff of the BDU once again provided the technical support to ensure participants capitalised on the available opportunities at the Convention.