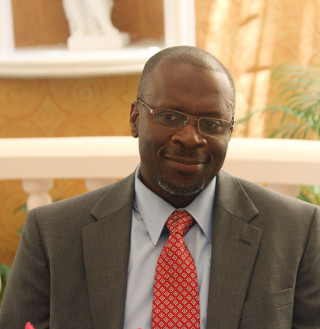 Chief Secretary Orville London believes Tobago is being treated differently when it comes to the financial issues highlighted in the Auditor General's report for the fiscal year 2005-2006.
At Wednesday's post Executive Council media briefing at the Administrative Complex in Calder Hall, London stated that in the past, similar issues involving Central Government were not handled in such a public manner.
"The Minister of Finance called in all the Permanent Secretaries and the Chief Administrator to speak to them as to how they could improve on these issues," London said. "I find it passing strange, in the Tobago sense, that they are trying to make a link between this and some maleficence on the part of the politician."
Responding to the questions raised by the Auditor General's report, Tobago House of Assembly (THA) Chief Administrator Raye Sandy, who is the head accounting officer for the Assembly, explained that many of the issues cited arose from the manner in which the financial rules were applied.
He said that the THA Act of 1996 allows the Assembly to "make such financial rules as necessary for the proper management of its finances". They were adopted by the THA's Assembly Legislature in January of 1997.
The rules were submitted to Government in 1997 to be laid in Parliament, Sandy explained, and were revised and resubmitted on September 27, 2001. Despite numerous requests by the THA over the past 18 years, the rules have not been laid in Parliament.
"The rules of 1997 and 2001 modified the rules of 1990, in accordance with the substantial changes of the THA Act No. 40 of 1996 as required by Section 78 of that Act," the THA report stated. "However, this position of the modified rules does not appear to satisfy the Auditor General, who continues to use the 1990 rules in its original form with minimal reference to changes in the THA Act 1996."
It further stated that this is borne out in the fact that the Auditor General's report still refers to the Chairman and Finance and General Purposes Committee. These were replaced by the position of Chief Secretary and the Executive Council respectively in 1997.
The Auditor General's report queries the reporting of transactions related to the Unemployment Relief Programme (URP) and the Road Improvement Fund (RIF), which it deemed contrary to the Comptroller of Accounts Circular No.16, of November 2006. This circular, however, came into effect two months after the financial year in question had closed.
Sandy also pointed out that at the time the audit was conducted, several documents needed for verification were not furnished to the Auditor General as requested due to a challenge in locating them. Within the eight-year gap, he explained, Divisions may have "changed physical location and personnel."
A number of documents related to the Assembly's assets, the THA report said, are now available for scrutiny.