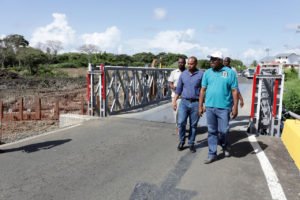 Infrastructure Secretary Kwesi Des Vignes gave an update on progress at the Thompson River Bridge during the recent post Executive Council media briefing.
"The Thompson River Bridge stands at 52% complete and, as a matter of fact, that is ahead of schedule. One of the things we've been putting pressure on our contractors to do, is to finish our projects within time and within budget," Des Vignes said.
The Secretary said he was pleased with the project manager, National Infrastructure Development Company Limited (NIDCO), and the work being done by contactor General Earth Movers Limited (GEML).
"They are now in the process of installing the form work reinforcement for the southwest abutment and wing wall. And we are presently backfilling the north abutment," he said.
"We're looking to realize cost-savings on this project. As was done with the Lambeau Bridge, our engineers are working closely with the contractors, project manager and project consultant to ensure that we get quality work for the people of Tobago," Des Vignes said.
The first phase of the south-west abutment will begin in three weeks.