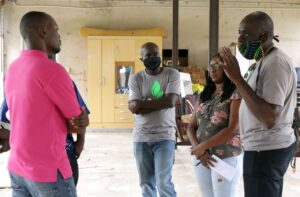 COVID-19 has shown the importance of food security on our island. Long before the pandemic, the Tobago House of Assembly and the Division of Food Production, Forestry and Fisheries began spearheading food initiatives.
Initiatives to feed school children in need, the distribution of food cards, and the continued encouragement of Tobagonians to grow their own food highlighted the importance of both food production and developing strategic food systems.
According to the Center for Strategic and International Studies,135 million people world-wide were facing extreme hunger at the start of 2020 and the World Food Program stated that the figure could rise to 265 million people by the end of this year (2020).
Following COVID-19, the distribution of home garden start-up kits has continued and new farming initiatives, including the Farmers' Incentive Programme, were introduced. In addition, THA Chief Secretary Hon. Ancil K. Dennis has been visiting farms across Tobago to gain a first-hand view of Tobago's crop production and to gauge where the THA needs to make investments towards food security.
Tobago imports 80 percent of its food products and that has to change said President of the Tobago Agricultural Society Dedan Daniel.
"We need to increase food production on the island. Farmers need easier access to financing, we need to improve the mindset of farmers to treat agriculture as a business, have better marketing infrastructure, and better access to labour because there's a labour shortage," Daniel said.
Expressing his concern about Toabgo's food security, Daniel also said the consumption of local food should be prioritised.
"We should have a programme regarding import substitution to encourage local produce so that the demand for foreign imports is reduced. Instead of importing apples and grapes, we consume mangoes. Instead of importing wheat flour; dasheen, yam, or cassava flour is used as its substitute," he said. Daniel indicated it was important for the agro-processing sector to make value-added products.
Daniel sees the island heading in the right direction. "We intend to have a closer working relationship with the Division of Agriculture and the THA towards marketing and food production infrastructure including packing house facilities and cold storage," Daniel said.