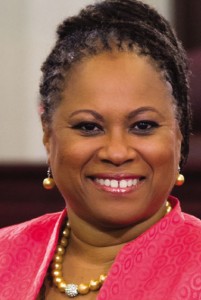 It was an evening for women, one which focused on them and stimulated them to think beyond what they have been accustomed, as the 'Phenomenal Women In The Arts Movement,' was Launched at the Argyle Community Centre.
While the Launch took place in the East, it also encompassed women in the West, who will also benefit from the range of training to be provided, in what represents a rare and ideal opportunity, to develop themselves  and capitalize on the scope of the Performing and Creative Industries.
Members of several Village Councils were on hand, to include the Argyle Village Council, Roxborough Village Council, Belle Garden Tamboo Bamboo, as well as Folk and Cultural Groups.
Proud to display their personal achievements, it  was Marina Marfan, an accomplished Pannist and Member of Staff of the Division of Community Development and Culture, who set the stage for the evening, as she performed on the national instrument.
Culture Co-ordinator Glenda Rose Layne, expressed pleasure in being able to oversee a programme, which she noted, particularly targets women and exposes them to the full range of skills in the Creative Industry.
"This Programme is long in coming. Apart from the various programmes being offered in the Division, it was felt that a more formal approach was necessary to fully expose and target women and allow them to embrace disciplines outside of what they are accustomed."
Declaring 'Phenomenal Women In The Arts Movement' an exciting one for her, Community Development and Culture Secretary, Dr Denise Tsoiafatt-Angus, reflected on the mature woman in the society, whom she felt strongly, should not be seen as "women and wilting..but female and fit."
Noting that as they mature, women tend to be a little bit forgotten and invariably confined to doing things with their hands, this Programme, she pointed out, involves the use of the body.
"This Programme brings forth the pride in our bodies, because you will be dancing, learning to play the drums and different activities which involve your body. Walking and running are not the only means to keeping fit."
She advised that it is also about taking pride in the indigenous Culture and investing and learning more about it, even as the Division strives to fulfill its mandate toward preservation.
"Some may feel that retirement is about going home and doing nothing, but retirement is a choice to do or not to do. Retirement could be a choice to pick up a hobby which turns into a career."
Tsoiafatt-Angus commended Staff of the Division for doing more with less, as she pointed to the economic uncertainties in the Country, as a result of reduced Oil Prices and shortfall in allocations to the Tobago House of Assembly.
Some six (6) Facilitators have been engaged to train and share their skills. Among them, in the area of Drumology, Dominic Williams and Anslem  Williams will serve as Tutors, in Dance, karen Berkley-Charles, Dione Briggs and Delton Frank.
Bringing the curtains down on the evening's proceedings, were talented artistes, Nicole Dalrymple, with her rendition 'Superwoman,' accomplished Calypsonian Nicole Thomas, who sang 'Drums of Hope' and invigorating rhythms of  the skillful Culture Drummers.