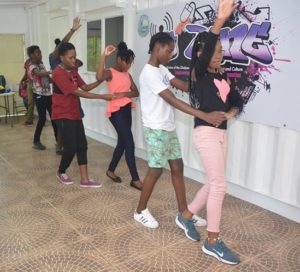 Preparation, demonstration, practice and evaluation were part of dance instructor Keith Johnson's four-step methodology for tutoring young students in the Y-Zone Dance Programme.
Ages 5 to 14, the students learned dance techniques, including merengue, salsa, rumba reggae and line dancing, over 12 sessions. The various types of choreographies allowed the youths to interact with one another and learn a fun social skill.
The dance programme, which was held in Mason Hall, was one of the activities offered by the Division of Community Development, Enterprise Development and Labour for the July/August Vacation.
The programmes are geared at increasing young people's confidence in a skill, while creating a safe environment that allows them to thrive.