The Division of Finance and Enterprise Development's Venture Capital Equity Fund Limited (VCEFL) gave a major boost to the island's economy by injecting two (2) million dollars into two (2) local enterprises. The funding which was announced earlier this year by the Secretary of Finance and Enterprise Development was formally agreed to at a meeting at Victor E. Bruce Financial Complex last week, where both parties signed shareholder agreements. The two beneficiaries were Andy's Company Limited and Quiet Rivers Corporation.
Delivering remarks on behalf of the Secretary of Finance and Enterprise Development, Mrs Claire Davidson Williams, the Division's Administrator, indicated that apart from increasing production and employment, the funding created an opportunity for Tobago's own, to return home. The investment will result in Andy's Cherry Nectar, a Tobagonian product, being produced at the Cove Eco Industrial and Business Park (ECIBP) while Quiet Rivers will utilise funding to optimise its operations at Cove.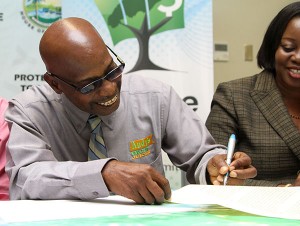 VCEFL Board Member, Mr Anthony Pierre stated that there are 6-7 projects in the pipeline which should receive funding in the upcoming period and while the first two disbursements took some time to be finalised, he encouraged those still awaiting approvals and emphasised that the Board remains committed to being their partners in investment.
In closing, Mrs Davidson Williams congratulated the respective business persons and indicated that the Division was looking forward to this and other opportunities for supporting entrepreneurial prospects.
The Venture Capital Fund Equity Limited is a company established to support private sector investments in priority areas identified in Tobago's development plan – the Comprehensive Economic Development Plan (CEDP) 2.0. The Fund's mandate is to strengthen qualified fledgling enterprises through public/private sector equity arrangements of between $500,000 and $5 million to enable Tobago's economic diversification.