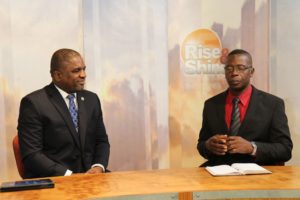 Deputy Chief Secretary and Secretary of Finance and the Economy in the Tobago House of Assembly (THA), Joel Jack has expressed satisfaction with the mid-year budget review that was presented by Finance Minister Colm Imbert.
Secretary Jack was on Tobago Channel's 5 'Rise and Shine' morning programme on Thursday (May 16) where he discussed the mid-year budget review as well his preparations for the THA's budget statement that is expected in late June.
The most notable issue impacting Tobago from the review was the stated intention of the Finance Minister to grant approval for the THA to secure loan financing on the local market in the sum of $300 million. Secretary Jack said it will allow for financing development projects on the island such as roads, bridges, housing, coastal protection, etc.
The Secretary also discussed topics relating to Caribbean Airlines (CAL) and the wet lease of an aircraft, the construction of a new modern airport terminal building at the ANR Robinson International Airport and, the capacity on the sea bridge for passengers and cargo, the soon arrival of a modern fast ferry, the Jean de La Valette with a capacity for 800 passengers and 230 cars, plus the arrival of two new passenger vessels by next year.
Secretary Jack said he was encouraged by the continued assurances by Minister Imbert that the national economy has in fact turned around and there is a return to positive economic growth following economic decline since 2017.