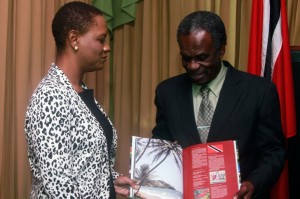 The Tobago House of Assembly and the Ministry of Tobago Affairs are promising a more positive working relationship than under the previous Central Government administration.
The Assembly had a very rocky relationship with the Ministry of Tobago Development, which was replaced with the Ministry of Tobago Affairs. The latter is now the responsibility of Minister in the Office of the Prime Minister Ayanna Webster-Roy, MP for Tobago East.
Webster-Roy had her first official meeting with Chief Secretary Orville London on Monday (September 28, 2015) at the Office of the Chief Secretary, Administrative Complex, Calder Hall, and both pledged to work for the benefit of Tobago.
Following the hour-long meeting, London said he and the Minister discussed some of the issues that will arise in the transition period for the Ministry of Tobago Affairs. London stressed the importance of dealing with the matter professionally and with "utmost sensibility to the needs of the people in keeping with the laws of Trinidad and Tobago".
"I have every confidence that with the necessary degree of collaboration, we would be able to resolve the issue with minimal pain to the people of Tobago," he said.
"I want to thank the Honourable Minister Webster-Roy for her visit and to reiterate my best wishes in (her) new assignment, and to pledge the collaboration and the cooperation of the THA as we move forward to work together for the development of this island and this country."
London stated that there will also be collaboration between the THA's Chief Administrator and the Permanent Secretary in the Ministry.
Webster-Roy gave her commitment to ensure a good relationship between the THA and the Central Government.
She noted that there are a number of issues at the Ministry of Tobago Affairs in the Office of the Prime Minister that have to be worked out.
"At present I will be analysing the situation to see what best we could do for the people of Tobago," she said.
Webster-Roy recalled that she had made a lot promises during the election campaign and cited land regularisation and land tenure as the most pressing issues currently. She said she intends to work through her Permanent Secretary, Vel Lewis, with the Registrar General to bring a speedy resolution to this "vexing" problem.
The Minister also wants to have the Meteorological Office at Crown Point become operational by Christmas.