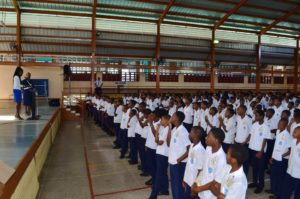 The Division of Education, Innovation and Energy (DEIE) has confirmed that Scarborough Secondary School, was given the all clear for regular school on Tuesday 29th October, 2019.
A meeting to confirm that the school is safe for occupation by staff and students, was held on Sunday at the school's premises. The meeting took place with an electrical inspector from the Electrical Inspectorate and also included senior management of DEIE, representatives of the Scarborough Secondary School, including TTUTA representative, staff representative and the PTA president.
Electrical Inspector, Anthony James, informed the team that while there are works to be completed before the school can receive a passing certificate of inspection, the Scarborough Secondary School, having recently undergone some repairs and upgrades, is safe from any foreseeable evacuation and declared safe for personnel (staff and students) to occupy.
All stakeholders at the meeting agreed to continue working together to ensure a safe working environment is provided for the staff and students of Scarborough Secondary School and that minimum disruption to classes is experienced.
DEIE has apologized for any misunderstanding as a result of a previously issued press release dated Thursday 24th October, 2019. The Division continues to pledge its commitment to ensuring that all Tobago students receive quality education in a safe environment of learning.