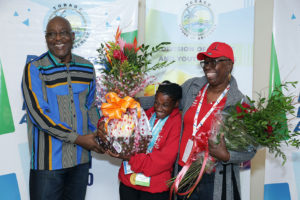 The Division of Education, Innovation and Energy welcomed home Tobago Special Olympic
gold and silver medalist Sapphire Jackson on Friday (March 22, 2019).
The reception for the returning Special Olympian was held at the international departure lounge of the ANR Robinson International Airport, Crown Point, Tobago. THA representatives Chief Secretary Kelvin Charles, who is also Secretary of Education, Innovation and Energy,  family members, and supporters were there to greet the Plymouth-born Special Olympic athlete.
Jackson, who attends the Happy Haven School, was the lone Tobago representative at the Special Olympics 2019 World Games in Abu Dhabi, United Arab Emirates, She returned to the island with a gold medal after copping first place in the soft ball throw. She al­so won sil­ver in the 100m walk event.
The Trinidad and Tobago team returned with a total of 57 medals.