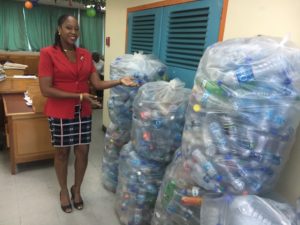 Tobago is set to introduce the island's first recycling programme.
This was announced by Secretary of Infrastructure, Quarries and the Environment Kwesi Des Vignes, who said greater emphasis must be taken on protecting the environment.
"[We] are about to launch a pilot project for the first recycling programme in Tobago…a ground breaking programme, as we will have the first Waste Material Depot in Tobago, so we no longer have to consider sending material to Trinidad,"  Des Vignes said during a recent post budget debate.
He said keeping Tobago clean and green remains a priority for the Division.
This ambition is also reflected in the annual Recyclemania project. This year, four THA Divisions are competing for supremacy in the race to Beat Plastic Pollution: the Division of Finance and the Economy; the Division of Community Development, Enterprise Development and Labour; the Division of Health, Wellness and Family Development; and the Division of Education, Innovation and Energy
The initiative aims to minimize the impact of plastic pollution. The challenge was launched on June 7, 2019.
The challenge involves participants becoming innovative in implementing waste management systems in their immediate environment.
"These measures, in keeping with the goals of the initiative, are geared at raising awareness of the impacts of improper waste disposal, and instituting habits of recycling, thereby preventing plastic waste from entering the island's water courses," a media release from the Division stated.
From June to September 2018, the Infrastructure Division collected 7535.2 pounds of plastic waste in 891 garbage bags in the first RecycleMania challenge, which was held internally.
The waste was transferred to BK Holding in Trinidad for recycling.