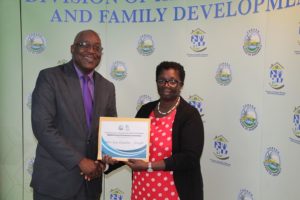 33 entrepreneurs received grants from the Realization for Economic Achievement (R.E.A.C.H) programme under the Division of Health, Wellness and Family Development totaling $240,000.
THA Chief Secretary Hon. Kelvin Charles encouraged the recipients: "Today ought to represent the start of a new period in your business; make it count and use the grant wisely. Don't squander what you are given. Put in the hard work because hard work brings success," he said.
The $7,500 grant helps to assist small businesses. In addition, the R.EA.C.H Unit offers training and other opportunities to assist clients in selling and marketing their products.
"The Division continues to pursue gender equality as we continue to improve the standard of living and improve the economic progress of both men and women on the island," Health Secretary Dr. Agatha Carrington said.
The event took place on November 26th at the Division's Wilson Road office.