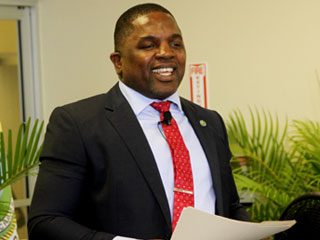 Recommendations of the business groups in Tobago will be given serious consideration as the THA prepares its next budget. The various groups met with the Tobago Executive Council on Thursday April 9.
Secretary of Finance and Enterprise Development, Assemblyman Joel Jack, gave this assurance during Thursday's weekly post Executive Council media briefing. The meeting, held at the Victor E Bruce Financial Complex in Scarborough, was the first round of budget consultations for the 2015-2016 fiscal year.
Representatives from the tourism, agriculture, banking, business and the credit union sectors all presented proposals to the Executive Council, outlining their concerns and requests for the next fiscal year.
"The voices of our stakeholders were clear and will be reflected upon as we finalise this year's budget," Jack stated.
Of the talks, Jack said: "The discussions were quite informative and provided the respective Secretaries with some of the concerns of the various sectors and interest groups here on the island.
"They provided some cogent advice, while some recommendations were already being evaluated. It was an opportunity for meaningful collaboration, which will continue as we go to the various divisions to action and explore some of the recommendations made," Jack said.
The Secretary pointed out that through all of these activities, the Assembly will continue to re-emphasise its pledge to Tobagonians and Tobago's partners, a statement supported by Chief Secretary Orville London.
"We will continue to engage our partners, the people of Tobago and stakeholders, to build and strengthen our alliances and create opportunities for Tobago's advancement," Jack added.
The Finance Secretary reaffirmed the Assembly's commitment to engage in ongoing dialogue and meaningful collaboration despite the challenges presented in the current uncertain financial climate, where Tobago is facing increasing demands alongside decreasing resources.