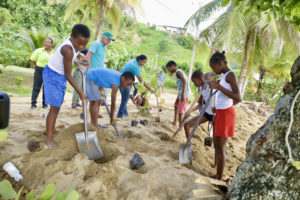 Trees such as almond and coconut help protect communities during adverse weather conditions.
On November 21st, 167 trees were planted by Environment Secretary Kwesi Des Vignes, residents of Parlatuvier, representatives from Environmental Research Institute Charlotteville (ERIC) and the Tobago Tourism Agency Limited (TTAL).
The Division of Infrastructure, Quarries and the Environment (DIQE) partnered with ERIC and Environment Tobago, to commission the planting of 2,500 native trees along north eastern communities in Tobago in November. In addition, Lambeau's coastline is also earmarked. 1,165 trees are expected to be planted this month with a further 1,335 to be planted in the June 2020 rainy season.