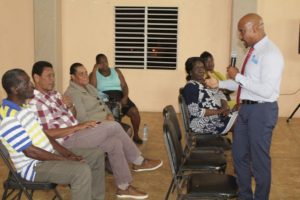 Response times for ambulances and the availability of pap smear and mammogram services were some of the issues raised by residents at Wednesday's (February 13) health public meeting at Parlatuvier.
The meeting was hosted by the Division of Health, Wellness and Family Development in collaboration with the Tobago Regional Health Authority (TRHA) at the Parlatuvier Community Centre.
The meeting provided a forum for residents of Parlatuvier and environs (including the villages of Castara and L'Anse Fourmi) to share their concerns and suggestions, as the health sector seeks to improve its services.
In addition to the open forum, the attendees benefitted from a presentation on strokes and diabetes, delivered by director of the new Stroke and Diabetes Centre, Dr. Gerard Antoine. The centre was commissioned in September, and provides specialist services to help persons affected by strokes and diabetes.
Upcoming community meetings continue on February 20 at the Moriah Community Centre, February 27 at the Bethel Community Centre, and March 6 at the Buccoo Integrated Facility.