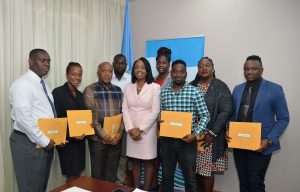 A new board, led by Chairman Ronald Celestine, has been installed at Pigeon Point Heritage Park and Store Bay Beach Facility for the next year.
The appointments were made by Secretary of Tourism, Culture and Transportation Nadine Stewart-Phillips yesterday (September 26) at the Tourism Division's head office in Scarborough.
In addition to the overall administrative control of the two facilities, the Board of Directors will be responsible for the development and protection of the two beaches, the promotion of the facilities' services, and stakeholder relations and staff management.
The appointments will be in effect from October 1. In addition to Celestine, Ricardo Alfred will serve as deputy chairman. There are five other directors in Kevern Phillips, Kieron McDougall, Trudy Daly-Caraballo, Delmond Edwards, and Esther Tobias-Clarke, while Natisha Charles-Pantin is secretary to the board.
During the brief appointment ceremony, Secretary Stewart-Phillips thanked the members for accepting the call to serve.
"Pigeon Point Heritage Park has been generating its own revenue over the years, and that achievement must be commended," Stewart-Phillips said. "Nevertheless, greater efforts must be made to ensure the continued financial viability of its operations. Greater efforts must also be placed on marketing the facility locally, regionally and internationally with the view to increasing traffic to the destination, and more visitors to the facility."