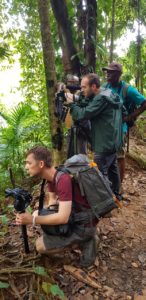 National Geographic Traveller returned to Tobago recently to capture footage of the island in phase two of a marketing initiative by the Tobago Tourism Agency Limited (TTAL) to bring greater exposure to the destination.
The UK edition of the magazine will feature content in its print and digital platforms.
In May, the travel publication sent a production team to cover various cultural and coastal elements of the island. They included the harvest celebrations of Belle Garden and the island's diverse marine life.
Phase two of the coverage took place from July 24-25.
The group focused on Tobago's eco-adventure sector. They covered hiking and birdwatching in the Tobago Main Ridge Forest Reserve, turtle watching on Turtle Beach, bioluminescence tours in the Bon Accord Lagoon, and waterfalls at Argyle, Parlatuvier and the Castara.
Tobago bird expert and ecologist William Trim led the production team through the Main Ridge Forest Reserve and to the waterfalls.
Five articles on National Geographic's visit will be created, and a content hub on the National Geographic Traveller website will feature photos and videos highlighting the island's unique offerings.
The visual and written content will also be utilized by TTAL in its own promotional campaigns.