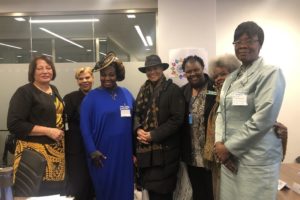 Secretary of Health, Wellness and Family Development Dr. Agatha Carrington is part of a delegation led by the Office of the Prime Minister, Gender and Child Affairs, to the 63rd session of the United Nations Commission on the Status of Women (CSW) which is being held at the UN Headquarters in New York from March 11th through 22nd.
During the session, Dr. Carrington will participate in examining the priority theme: social protection systems, access to public services and sustainable infrastructure for gender equality and the empowerment of women and girls and the review theme: women's empowerment and the link to sustainable development.  The session includes attending several presentations and participating in discussions through group activities.
In last week's International Women's Day message, the Health Secretary said: "The unfortunate fact is that worldwide, some women are still not being paid equally to that of their male counterparts, women still are not present in equal numbers in some professions and violence against women and girls is alarming. We must strike the balance to make things better for all our women and girls worldwide."
The CSW is instrumental in promoting women's rights, documenting the reality of women's lives throughout the world, and shaping global standards on gender equality and the empowerment of women.