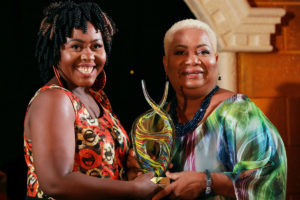 Tobagonians are chasing and fulfilling their dreams, both at home and abroad, because of the impact of teachers on their lives.
That's according to Chief Secretary Kelvin Charles, who paid tribute to the island's teachers at the 12th Teachers Retirement and Appreciation Ceremony. The event was held on Thursday (June 6) at Magdalena Grand Beach and Golf Resort, to bid farewell to 35 teachers from active service, who retired between November 2016 and June 2019.
Chief Secretary Kelvin Charles, who is also Secretary of Education, Innovation and Energy said the "stalwarts of the teaching profession are the subjects of well-deserved honour". He said those honoured have made valuable contributions throughout their careers.
"Education is the biggest investment that we can make in the life of a child," Charles stated. "But education isn't just the material we find in books: Math and Science, English and Art, Information Technology and Business. Learning a skill, vocational or life skill, is education. Learning how to treat and respect others; that is education. Growing to understand the importance of honesty, consistency and dedication; that is education."
Education Division Administrator Cherryl-Ann Solomon also recognised the contributions of the teachers.
"People become teachers to make a difference to the students that are in their class, to teach them that they can accomplish their goals and become whomever they want to be in this world," she said.
The theme for the ceremony was "Flaming Immortelle". It compared the work of teachers to the immortelle tree. The concept, according to a release from the Division, is that teachers give "entirely of themselves to ensure that their students, like the flowers, can attain peak accomplishments and exude brilliance".