The Tobago Heritage Festival 2018 opens on Friday (July 13).
The official launch of the Festival took place on July 6 at GNV Place on Wilson Road, Scarborough.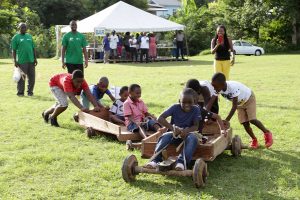 This year the guiding principle for the Festival is the phrase "Embrace, Engage, Experience".  The event will feature the "Moriah Ole Time Wedding" (July 14), the "Miss Heritage Personality" in Roxborough (July 27) , "Games We Used to Play" in Mason Hall (July 22), and the "Ole Time Carnival" at Plymouth (July 21).
Executive Chairman of the Tobago Festivals Commission George Leacock said locals and visitors will be able to experience the island's heritage.
"At the end of the day, without the singers, dancers, stage managers, calypsonians, pan men, set decorators, vendors, playwrights, choreographers, sound men, cleaners and a host of others, none of this would be possible," he said.
According to the Division of Tourism, Culture and Transportation, the festival is about the communities that make Tobago, while it also celebrates the island's heritage through difficulty and strife.
The Division has affirmed its continued support for the Commission as it hosts this year's Festival.