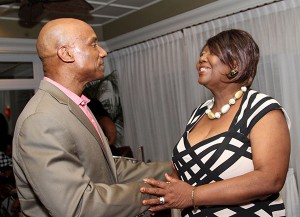 Secretary of Health and Social Services Claudia Groome-Duke is telling Tobago's men to have their prostates examined.
Screening is the best way to detect prostate cancer at an early stage, and annual screening is recommended for men above age 40. Prostate cancer, one of the leading causes of death in the Caribbean, was one of the topics discussed at the three-day second annual Medical Conference, themed "Cancers in the Caribbean: Giving Back 2015."
The conference was hosted from June 12-14 by the Caribbean Medical Providers Practicing Abroad (CMPPA), in conjunction with the Tobago House of Assembly (THA) and the Tobago Regional Health Authority (TRHA), at the Magdalena Grand Beach and Golf Resort, Lowlands.
Last year, the first installment of the conference was held in Trinidad.
At Wednesday's (June 17) media briefing at the Administrative Complex, Calder Hall, Groome-Duke congratulated CMPPA and its founder and medical director Dr. Gerard Antoine for bringing close to 40 local, regional and international presenters to Tobago for the conference.
Antoine was born in Trinidad. He is currently Chief, Physical Medicine and Rehabilitation at Tripler Army Medical Center in Honolulu, Hawaii.
The doctors and other medical professionals delivered a series of lectures on cancers in the Caribbean, cancer survival, prevention, rehabilitation, nutrition, surgery, pain management and several other areas. The event also included a Community Outreach Programme.
"Experts in their various disciplines were able to present their research studies and findings within the conference. They were all giving back," Groome-Duke said, adding that Tobagonians benefitted from the information provided.
The Secretary was also impressed by the interactive Community Outreach Programme, where members of the public were able to ask health-related questions. Over 150 people attended the cancer rehabilitation session, she said, noting that it was "well attended and well received."