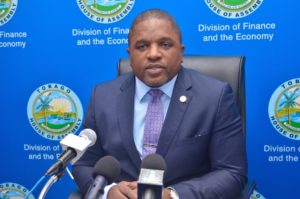 Despite the economic challenges this country has faced in the past few years, Tobago has managed to limit the impact of inflation on the island.
According to Secretary of Finance and the Economy Joel Jack, the latest inflation figures from the Central Bank are encouraging. During yesterday's (April 3) post Executive Council media briefing at the Victor E Bruce Financial Complex, Scarborough, Jack revealed the inflation statistics for Tobago.
He said the island's inflation rate averaged 1.2 per cent, comparing with the national average of 1.1 per cent. Tobago's food price inflation in February 2019 was 1.7 per cent, and the rate of core inflation, 2.9 per cent. And the island recorded headline inflation of 2.8 per cent, compared to the national figure of 1.2 per cent.
"What our inflation numbers suggest is that notwithstanding the previous challenges on the air and sea bridge, inflation on the island has been kept at moderate levels," Jack said.
The Finance Secretary said the island has been experiencing growth of its real GDP at "approximately three per cent" over the past five years. He said there is potential to increase activities that will improve economic growth.
Jack also highlighted some key Tobago figures provided by the Central Statistical Office (CSO).
"The latest data available from the CSO at the end of the fourth quarter 2017 with respect to the labour market suggest that the unemployment rate in Tobago is below three per cent and this is in comparison with the 4.4 per cent recorded at the national level," he stated.
He also said in Tobago, 31,000 people had jobs in the fourth quarter of 2017, with roughly 60 per cent employed by the THA. In all, 20 per cent of the labour force on the island have attained tertiary education.
The Secretary pointed out that priorities for Tobago's medium-term planning (up to 2023) include job creation, expanding the private sector capacity building, diversification and food and energy security.