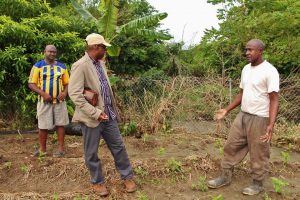 Fisher folk and farmers who have had their livelihood affected by recent flooding in Tobago can receive compensation.
This reminder is being issued by Secretary of Food Production, Forestry and Fisheries Hayden Spencer. He said some farmers are unaware of what assistance they're entitled to following a natural disaster.
During Wednesday's post Executive Council media briefing at the Victor E Bruce Financial Complex, Spencer said the Tobago House of Assembly's compensation programme provides support for registered fishermen and boat owners.
"Once the weather bulletin has been issued by the National Meteorological Services, [a claim form stating the] damage to a fishing vessel or equipment sustained thereafter may be filled at the Department of Marine Resources."
There is also compensation for crop production and livestock, but farmers are required to first make a report at Food Crop Department.
"The extension officers who are responsible for doing constant monitoring will conduct the preliminary assessment of the affected areas [to determine the damages]," Spencer said.
He reminded claimants that they must provide evidence of crop damage in order to receive compensation from the Division.