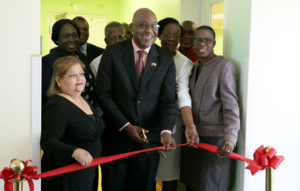 Education and training will intersect when students from the University of the West Indies (UWI), St. Augustine have the opportunity to do rotations and clerkships at the Scarborough General Hospital (SGH).
Speaking at the formal launch of the clinical teaching at the SGH, Head of the Department of Clinical Medical Sciences at UWI Dr. Nelleen Baboolal said, "We plan to run four clinical clerkships in this hospital – psychiatry, adult medicine, general surgery, and pediatrics and child health."
Also addressing the gathering was THA Chief Secretary, Hon. Kelvin Charles, who stated that, "In November 2018, the Executive Council confirmed a decision to designate the Scarborough General Hospital as a post graduate teaching hospital."
Preliminary work began three years ago between UWI and the Tobago Regional Health Authority (TRHA), which culminated in the launch on March 6th.