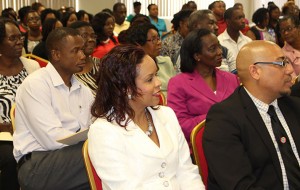 One hundred persons participated in the Division of Finance and Enterprise Development's seminar on the NGL Initial Public Offering (IPO) yesterday. In addressing the gathering Secretary of Finance, Assemblyman Joel Jack encouraged the attendees to seize the opportunities available to them. He stated that the uncertain economic times coupled with oil prices which are forecast to remain at lower than average levels create a critical need for sound financial decision making.
The seminar provided participants with guidance on investing in the stock market and the intricacies of the NGL IPO in particular. Facilitators from the Unit Trust Corporation's (UTC) Investment Research and Portfolio Management Services and First Citizen's Brokerage and Advisory Services shared valuable insight on the IPO and general investment opportunities. The discussions were informative, extremely interactive and yielded positive feedback from those in attendance. Participants from all walks of life attended the two hour session with many opting to subscribe for the IPO following the event.
This is second undertaking of this nature hosted by the Division's Financial Literacy Secretariat. The first focused on the FCB IPO. In the upcoming months, the Secretariat will increase its public education and outreach activities based on its mandate. The Secretariat's programmes advocate financial planning and enhancing levels of financial preparedness. It also provides basic information on the banking and economic systems to enable citizens' informed participation in related activities. The Financial Literacy Unit is continuously working to develop increased awareness of the need for wealth creation and the multi-generational transfer of wealth through financial education.