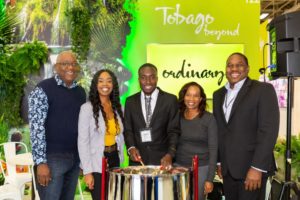 Tourism representatives attended ITB Berlin earlier this month to engage with German travel stakeholders in order to boost Tobago's tourism by establishing key partnerships, pursuing new avenues for industry growth, and launching the Tobago Beyond brand.
The Tobago contingent was led by Chief Secretary Kelvin Charles and included Secretary of Tourism, Culture and Transportation Nadine Stewart-Phillips, Tobago Tourism Tobago Tourism Agency Limited (TTAL) CEO Louis Lewis and Chairperson of TTAL's Board Dr. Sherma Roberts.
A media release from TTAL stated: "Tobago was able to establish partnerships with specialist tour operators that can focus on selling the four distinct cornerstones of the island's appeal: seas and beaches, eco-adventure and nature, romance and weddings, and local culture, people and heritage."
During the event, officials met travel agents, tour operators and influencers, and discussed advertising on media channels, including podcasts and social media platforms, relevant to target groups within the German market.
At ITB Berlin, the launch of the Tobago Beyond brand and "Go to Market Strategy" took place. In addition, campaigns such as the TTAL's #101reasonsTobago digital marketing initiative continues in order to increase the island's visibility.