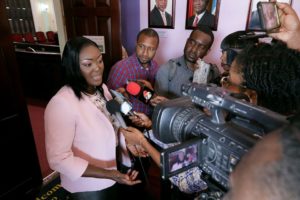 Tracy Davidson-Celestine is now a member of the Tobago House of Assembly (THA). She was sworn in on March 11th during a Special Meeting of the Assembly.
Davidson-Celestine resigned as Trinidad and Tobago's Ambassador to Costa Rica on February 29th and will hold the office of Secretary of Health, Wellness and Family Development.
"I want to continue to chart the course for the development of people on the island," Davidson-Celestine said. "One of the first things would be to meet with members of staff especially those who are dealing with preparations for the coronavirus, in the event that we should have a case here in Tobago, to see where things are and where we need to be in ensuring that we are on top of our game going forward."
Davidson-Celestine will be officially sworn in as a Secretary on March 13th at President's House in Trinidad at 10:00 a.m.