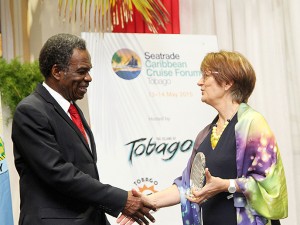 Tobago's geographical location puts this island at a disadvantage among potential cruise ship destinations in the Caribbean, where the market is very competitive.
According to Division of Tourism and Transportation (DOTT) Administrator Oscar Braithwaite, though, this only means Tobago must be more creative in the experience it offers to its visitors.
"We recognise the value of welcoming and hosting visitors," Braithwaite said at last night's (May 13) opening of the Sea Trade Caribbean Cruise Forum. The tourism industry, he said, is critical to developing Tobago's economy.
"In order to counter that disadvantage we have to be creative. In the industry, we strive to develop our creativity by improving on our tourism packages and our tourism offerings. Our consultation here is to identify those opportunities," he said.
He told those in attendance that DOTT's goal is to forge strong relationships with key players in the industry "with the hope that we can strengthen and build our capacity in the industry in Tobago to create a sustainable and progressive economy".
At the opening, THA Chief Secretary Orville London reiterated the importance of partnerships within the region to achieving success.
"We must be mindful that in many situations, one's self-interest is best served through collaboration with others," he said.
Global Events Director and Managing Director of Seatrade Middle East, Vanessa Stephens, said the forum will help stakeholders "understand what the region has to offer and to access the possibilities for deployment and increase cruise calls."
The two-day forum, which is being hosted by DOTT at the Magdalena Grand Beach and Golf Resort, includes officials from ten Caribbean countries and eight travel companies, who will participate in discussions, lectures, and seminars on the cruise ship sector.