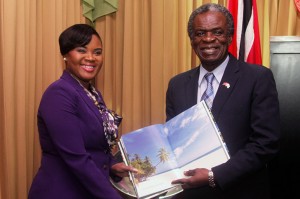 Successful development of Tobago's tourism sector requires collaboration between politicians and stakeholders.
This is the view of Chief Secretary Orville London, who made the comment during Monday's (November 11, 2015) courtesy call by Minister of Tourism Shamfa Cudjoe at the Administrative Complex, Calder Hall.
London said during the 30-minute meeting, they had "very enlightening discussions, and were able to share views on tourism, in particular Tobago's development in general".
The Chief Secretary told Cudjoe although she has a "quite challenging" task ahead, he is confident she will live up to the expectations all Tobagonians have of her.
"I made the point and I will continue to make the point that no job is too challenging, as long as we are prepared to work together," The Chief Secretary said.
"I want to reiterate that no politician or decision-maker can do it alone without the stakeholder or the individual involved in the industry for the development of Tobago. The need for collaboration in every area of tourism is quite obvious."
London expressed optimism that tourism "will play the critical role it has to play in the development of Trinidad and Tobago, particularly at this critical juncture".
Cudjoe said the meeting was "a very interesting and enlightening experience".
"I look forward to a stronger and better collaboration and relationship between the Ministry and the Assembly and a better working relationship between the Central Government and the Assembly," she said.
"We have made the commitment to meet constantly with the different Divisions and Secretaries to ensure that that relationship is strengthened so that Tobagonians can benefit from this collaboration and all that we have to offer from the Ministry of Tourism and the Central Government to the people of Tobago."