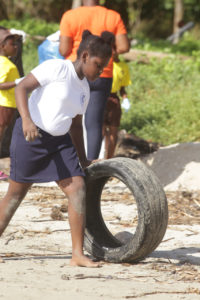 Tobago is participating in the International Coastal Cleanup 2019 with a two-day clean-up campaign at eight beaches across the island. The activity is being hosted by the THA Division of Infrastructure, Quarries and the Environment on September 21st and 22nd.
"The Tobago House of Assembly and its stakeholders stand in solidarity with the rest of the world. The theme this year is: Be the Solution, Beat Plastic Pollution," Infrastructure Secretary Kwesi Des Vignes said during the weekly post Executive Council media briefing (September 4, 2019), at the Victor E. Bruce Complex, Scarborough.
On Day 1, the exercise will take place at Courland Bay (Plymouth/Black Rock), Little Rockly Bay (Lambeau), Minister's Bay (Bacolet), Carapuse Bay (Belle Garden), Princess Bay (Roxborough) and Tyrrel's Bay (Speyside).
On Day 2, cleanup activities will move to La Guirra Bay (Kilgywn/Bon-Accord) and Sandy Point Bay (Crown Point).
Last year 467 participants were on record as helping the cleanup cause.
"This year the challenge is to have more than 500 participants. We want persons to come out to the beaches. Last year we collected over 311 bags, close to 3,000 kilograms of waste from our oceans and beachfronts. I hope we recover less garbage this year than in the past," Des Vignes added.
Other participating Divisions include Tourism, Culture and Transportation and Community Development, Enterprise Development and Labour, while corporate partners include the Water and Sewerage Authority of Trinidad and Tobago (WASA) and Bmobile.
The Division has been sensitizing the population on proper environmental practices through projects such as Recycle-mania.