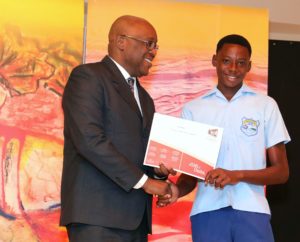 It's that time again when students can showcase their creative talent in the Chief Secretary's Secondary Schools' Art Competition.
More than $30,000 in prizes will be distributed among 12 finalists. Students can submit their art pieces in several formats inclusive of digital media, oil paint on canvas, acrylics, tempera or water paint, and drawings with pencil or pastels.
The 2018 edition of the competition saw 47 entries that displayed the incredible talent of some of the island's youngest artists. Speyside High School student Moses Bernard won the top prize. He secured $3,000 with his piece "Yardies" during the prize distribution ceremony at the Scarborough Library, and his school received $10,000. The remaining 11 finalists received $1,500 each.
The prize-giving ceremony for this year's competition, as well as the unveiling of the Chief Secretary's 2020 Calendar will take place in December.
Entries can be submitted until October 16th. For more information visit: https://www.facebook.com/OfficeOfTheChiefSecretary.
This year's competition is supported by the Division of Education, Innovation and Energy, the Division of Sport and Youth Affairs, and the Division of Tourism, Culture and Transportation.