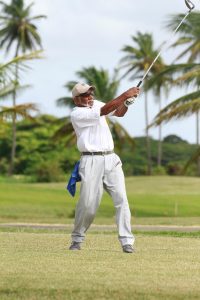 Amateur golf in the Caribbean is usually very competitive. And in Tobago, it's also for charity.
Over 100 golfers played for prizes, bragging rights, as well as to give to worthy causes at last weekend's (June 18, 2016) Chief Secretary Charity Golf Tournament at the Magdalena Grand Beach and Golf Resort.
Golfers from across the region-including Trinidad, Jamaica, and St. Kitts-faced off on the greens of the Tobago Plantations Golf Course at the annual event. Last year, the tournament, which has been running for the past 15 years, raised $82,500 in proceeds.
In 2016, over fourteen sponsors were involved in the tournament, including the Tobago House of Assembly (THA), Carib, and MI4 Security. For the first time in over 12 years, a golfer, Glen Redhead, shot a hole in one. Redhead, who is also Vice President for the Trinidad and Tobago Golf Association, collected a Ford Ranger pickup valued at $369,000 as his prize.
The dynamic pair of Shaker Beepan and Steve Durgadeen won first prize and received hampers provided by blink/bmobile, which included a Samsung Galaxy S6 Edge plus and other prizes. The team of Dr. Warren Steele and Shuffie Ali placed second and third was the duo of Redhead and Kervil Cowie.
Ethan Baptiste took the Junior category.
The tournament has elevated Tobago's profile as a golf destination with a scenic backdrop. Chief Secretary Orville London said the tournament brings value to Tobago, which goes beyond the sport and charitable donations. He believes the event has even more potential.
"I always say if the country is to be unifying or to be more unifying, it's the not the politicians that will do it, London said. "It's the people, and we do it by activities like this where we can come and sit and talk and mingle and at the end of the day leave here feeling better about ourselves and each other and our islands and our countries. I think this country has contributed significantly to that," he said.