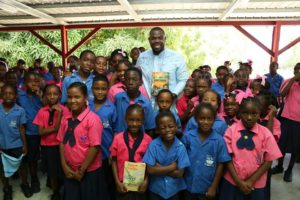 On Friday (February 1), Tobago joined the rest of the globe to highlight the importance of literacy during World Read Aloud Day.
The occasion is commemorated to advocate for literacy as a human right that belongs to everyone.
Chief Secretary Kelvin Charles, who is the Secretary of Education, Innovation and Energy, celebrated by visiting Black Rock Government Primary School to read stories to Standard Three students.
Studies have shown that reading aloud is important. It helps to foster language development, genre awareness, literacy, informational text knowledge and the social and emotional wellbeing of children.
Reading out loud also shows children the value of books. It leads to healthy discussion, builds bonds between readers and their audiences and motivates children to learn to read, as well as enjoy books beyond their current reading ability.