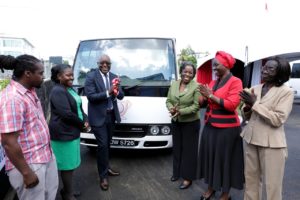 THA Chief Secretary and Secretary of the Division of Education, Innovation and Energy, Hon. Kelvin Charles, was on hand to commission two new buses for the Happy Haven School and the Tobago School for the Deaf, Speech and Language Impaired.  The event took place at the Division's Car Park on August 28th, 2019, where the Chief Secretary described the day as a glorious one.
"Today is indeed a glorious day.  Today is indeed a wonderful day because this activity underscores, very potently, our commitment to those among us who are differently-abled.  In order for us to purchase these buses, a sacrifice had to be made but we have a responsibility to ensure a certain degree of equity in dispensing resources and, more importantly, to ensure that no one is left out," he stated emphatically.
Mr. Charles seized the opportunity to commend Pastor Dr. Glenroy Frank, who blessed the buses, for the results of the Pentecostal Light and Life High School at the 2019 C.S.E.C. examinations.  He described the school's performance as a quantum leap, having moved from a 24% success rate, in terms of students achieving 5 passes and over, to 75%.
Assistant Secretary of the Division, Marisha Osmond, stated that these vehicles will bring great relief to the students using them and to all stakeholders.  She also indicated that the Division of Education has even greater things in store.
"Very soon, we will be commissioning a brand new building for the School for the Deaf, Speech and Language Impaired, so we have a lot to celebrate and give thanks for on this island of Tobago," stated Ms. Osmond.
She urged the drivers to be mindful of the fact that they will have precious cargo on board once the school term opens next week and to treat the vehicles as their own.
Also participating in the ceremony was Administrator of the Division, Cherryl-Ann Solomon, who brought greetings on behalf of the Division and expressed delight at the Commissioning.