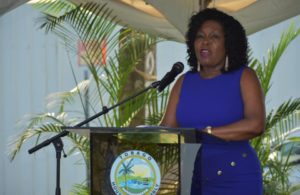 Secretary of Community Development, Enterprise Development and Labour Marslyn Melville-Jack recently announced that the Caribbean Industrial Research Institute (CARIRI) will partner with the Division to develop the island's entrepreneurs.
During the Division's Christmas Village (December 12) at the Gardenside Car Park, Melville-Jack indicated that partnerships like this reflected the Division's commitment to the evolution of the business sector on the island. She said entrepreneurs will benefit from the organization's expertise and product testing.
CARIRI is a multifaceted institution that provides services in the areas of laboratory and field testing, consulting, research and development, and training.