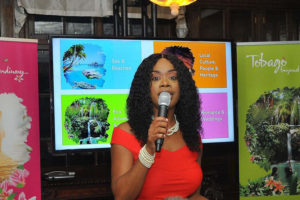 Tobago is giving Canada just a "taste" of what the island has to offer.
Tobago's tourism contingent, currently in the North American country to promote its Tobago Beyond brand, hosted a Caribbean-themed dinner on Wednesday (May 1) in Toronto.
The contingent is being headed by Secretary of Tourism, Culture and Transportation Nadine Stewart-Phillips and includes Tobago Tourism Agency (TTAL) CEO Louis Lewis.
Live steel pan music, calypso and soca music served as the backdrop to the dinner, which featured local cuisine, including salt fish cakes. Editors from fashion, food, travel and lifestyle media organisations were invited to the event.
Stewart-Phillips also shared information about the island's scenic beaches and signature festivals.
"One of our most popular beaches is located at the Pigeon Point Heritage Park and was ranked among the top 100 beaches in the world by CNN, and I urge you to insert Pigeon Point on your bucket list today," she said.
The Tourism Secretary said the Tobago Beyond brand message was successfully pitched to specific influencers who can take the message to the right audience.
During the trip, tourism officials will also reveal the official go-to-market strategy for the Canadian market.