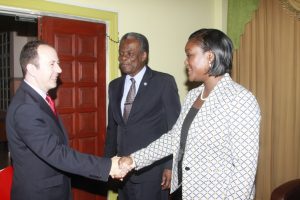 The Tobago House of Assembly (THA) and the British High Commission are seeking opportunities to forge closer ties between Britain and Tobago.
That was the purpose behind this morning's (June 8, 2016) visit by British High Commissioner Tim Stew to the Office of the Chief Secretary at the Administrative Complex, Calder Hall. Stew met with Chief Secretary Orville London and Deputy Chief Secretary Tracy Davidson-Celestine, who is also Secretary of Tourism and Transportation.
The High Commissioner explained that UK Prime Minister David Cameron, who visited the Caribbean last year, promised to ensure Britain's reengagement with the region.
"We in the High Commission have been determined to show that visibly, that it's a reality not just a promise," Stew said. He added: "I have a very strong team from the British High Commission here in Tobago because we simply decided it's time to turn our energies and our efforts and our time to Tobago."
The British High Commissioner is in Tobago for "Brit Week" on the island. He's also seeking "to explore and look for the opportunities in closer relations in education, in trade, security and justice".
The British High Commissioner said those initiatives include scholarships for Tobago students.
"One hundred and thirteen nationals from Trinidad and Tobago have studied under that British government scheme in the last 30 years, which I endorse for young people to learn and see a different perspective on the world," Stew stated.
Brit Week activities include a higher education skills fair at Signal Hill Secondary School on Wednesday (June 8) later today, with 12 exhibitors for persons interested in "what the British educational system has to offer."
There will also be a counsellor outreach session for British nationals tomorrow (June 9) at the Buccoo Integrated Facility from 9 a.m.
"It's really good to be developing the relationship with Tobago," Stew said.
Chief Secretary Orville London thanked the British team for working to foster growth in the relationship between Britain and Tobago.